BNIB OO Gauge Bachmann 35-310SF DCC SOUND Class 37 175 Colas Rail Loco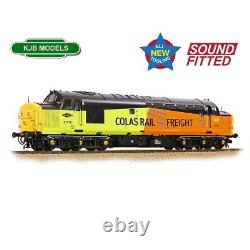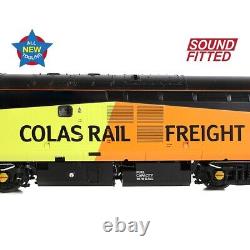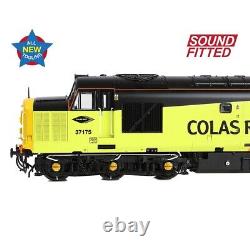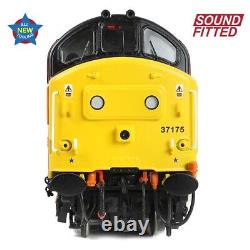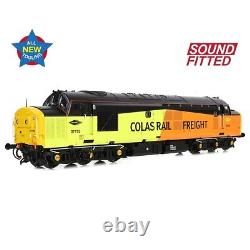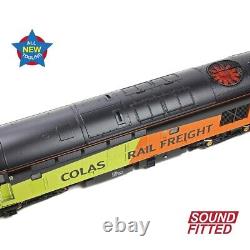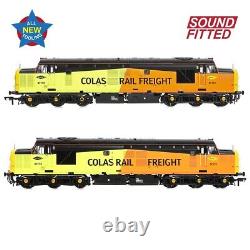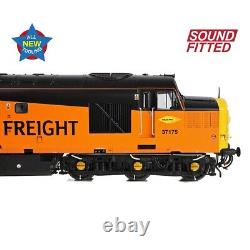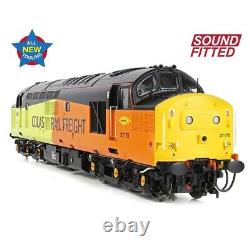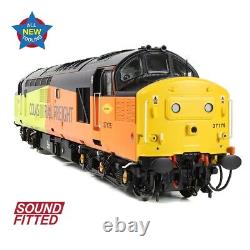 35-310SF Class 37 175 Colas Rail Loco. Brand new model from our new Yorkshire model railway shop. Analogue Users: Please note that normal load running sounds and any other automatic or randomised sounds will also operate when this model is used on analogue control (DC) straight from the box! SOUND FITTED - Fitted with a Zimo MS450P22 DDC Sound Decoder - See below for the function list. DETAIL VARIATIONS SPECIFIC TO THIS MODEL.
Central Headcode Panels - Plated and fitted with Marker Lights. Plated Boiler Port and Safety Valves. Sealed Water Filler Door and Plated Access Steps.
Original Fuel Tank and Extended Range Fuel Tank. BACHMANN BRANCHLINE CLASS 37 SPECIFICATION.
Five pole, twin shaft motor with two flywheels providing drive to both bogies. Separate metal bearings fitted to each axle. Diecast metal chassis block and bogie towers.
Diecast metal gearboxes, with gearing arranged for prototypical running speeds and haulage capabilities. 5mm (OO gauge) wheels to NEM310 & NEM311 standards with authentic profile and detailing. Detachable coupling pockets to NEM362 standards fitted to each bogie. Designed to operate on curves of second radius (438mm) or greater.
Bogies constructed from multiple components featuring full relief detail. Separately applied metal detail parts, including grab handles, windscreen wipers and etched fan grilles.
Each model supplied with a full set of decorated, model-specific bufferbeam pipework and accessory parts. Directional lighting, including headlights and high intensity headlights where applicable, switchable on/off at either end on DCC or Analogue control. Cab lighting, assigned to two DCC functions for separate switching of each. Separately switched Engine Room lighting. Yard Light' mode, red tail lights and/or marker lights displayed at both ends (when used on DCC).
Authentic light colours and temperatures selected for each model based on era and application. Two quality speakers employed for optimum sound reproduction, fitted to every model as standard.
Zimo MS450P22 DCC Sound Decoder fitted to SOUND FITTED versions. Four sound projects to accurately capture the sounds of Class 37/0s as originally built, those with thermostatically controlled fans, Class 37/4s and DRS-modified locos.
Sound files for each project produced specifically for the Bachmann Branchline Class 37 using recordings from real locomotives. SOUND FITTED models operate on DCC and Analogue control as supplied. On Analogue, an authentic engine start up sequence and running sounds are produced when power is applied.
Authentic liveries applied to all models. Multiple paint applications employed on each model using BR and corporate specification colours. Logos, numerals and text added as appropriate using multi-stage tampo printing using authentic typefaces, logos and colours. In addition, where applicable Etched Nameplates and Plaques are also provided.
F0 - Directional Lights - On / Off (plus Light Switch Sound). F1 - On - Warm Engine Start / On, Off - Failed Engine Start / On, Off, On, Off, On - Cold Engine Start. F3 - Single Horn (Playable). F5 - Light Engine Mode.
F6 - Coasting (Manual notch Down if F22 On). F8 - On - Sound Fade Out / Off - Sound Fade In. F9 - Flange Squeal (Speed Related).
F13 - Stationary - Guard's Whistle / Moving - Detonators. F14 - Wagon Snatching & Buffering (Speed Related).
F15 - High Intensity Light (If Fitted). F16 - Red Tail Lights On Both Ends (Non Directional). F17 - Marker Lights On Both Ends (Non Directional). F18 - Cab Light On - No.
F19 - Cab Light On - No. 1 End Directional Lights Off. 2 End Directional Lights Off. F24 - Engine Room Lights. The British Rail 1955 Modernisation Plan paved the way for the large-scale replacement of steam traction with diesel locomotives, and one of the most successful diesel locomotive designs to result from this was the English Electric Type 3.
These 1,700hp Types 3 diesel-electric locomotives were built at English Electric's Vulcan Foundry and by Robert Stephenson & Hawthorns between 1960 and 1965, with 309 examples produced in total. When TOPS was implemented the type was designated Class 37. The class proved popular with railwaymen and so in 1985, a major refurbishment programme for the Class 37 locomotives was sanctioned to extend the working lives of 135 locomotives. Features of the refurbishment involved plating over the four-character head codes and sealing off the nose end communication doors. A new subclass was created for locomotives refurbished with Electric Train Heating (ETH) equipment, allowing their use on passenger trains the whole year-round.
The Class continued to be widely used into the Privatisation-era, with examples operating for the likes of EWS, DRS, West Coast Railways and Colas, whilst others have received'retro' heritage repaints.

---