Hornby R3880 Class 31 31147 Floreat Salopia Dutch DCC Ready oo Gauge BNIB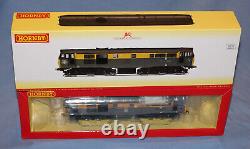 This is a Hornby R3880 model of BR Class 31 31147 Floreat Salopia in Engineers Dutch livery, 1:76 scale, OO Gauge, DCC Ready. The first Brush Type 2 emerged from Brush Falcon works in October 1957, production lasted till October 1962, 263 examples being made, unfortunately after only 500,000 miles of running the Mirlees engines started to suffer catastrophically from fatigue. As a result the engines were all replaced with English Electric power units betwean 1965 and 1969. The Southern saw them encroaching with cross Loondon freights as well as passenger work. Although the class worked into Scotland none were allocated there. The 1980s saw the class refurbishedand with sectorisation they were mainly allocated to Railfreight, although a number did work for Regional Railways, as well as the Civil Engineers department. 31147 Floreat Salopia entered traffic in 1959 as D5565 allocated to March Shed and remained in East Anglia untill October 1965, when it moved to Tinsley.
Renumbered to 31147 under TOPS, the loco was one of 3 fitted with RETB for working on the Cambrian lines and carried Regional Railways livery until it was painted into Civil Engineers Dutch livery and named at Shrewsbury on the 30th May 1993.

---