N Gauge EFE E85502 WD Austerity J94 Saddle Tank 68043 BR Black Loco -Like Farish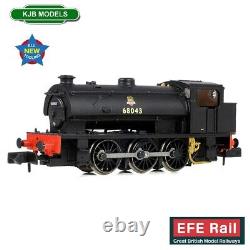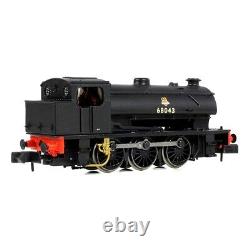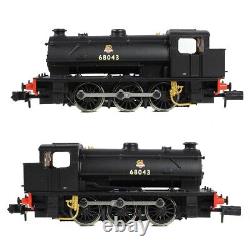 EFE E85502 WD Austerity J94 Saddle Tank 68043 BR Black Early Emblem Loco. Brand new item from our New Yorkshire model railway shop. Since the early-1940s the War Department Austerity Saddle Tank has been a common sight on Britain's railways - playing a vital role in the Allied victory of World War Two before becoming a mainstay of industrial operations and, more recently, heritage railways. Unveiled as part of the EFE Rail range, the WD Austerity Saddle Tank is a fitting subject as the brand's first N scale steam locomotive. This all-new model is a high-fidelity miniature recreation of the prototype, sporting details such as metal handrails, sand boxes and pipes, brake hangers and separately fitted brake rigging, and a decorated cab backhead.
Daylight is visible beneath the boiler, just as it should be, below which a representation of the inside motion has been moulded onto the chassis. DCC provision is by way of a 6 pin decoder socket located in the cab, however due to the limited space available a very small decoder such as the Bachmann 6 Pin Micro decoder (36-571) is required for this model. 68043 in BR Black with Early Emblem and is fitted with an additional pair of handrails on the saddle tank. Pristine BR Black (Early Emblem) livery. DCC Ready (It is NOT DCC fitted).
Equipped with a 6 Pin (Micro) DCC Decoder Socket. WD AUSTERITY SADDLE TANK HISTORY. The War Department Austerity Saddle Tank was the standard British shunting locomotive during the Second World War.
The design was rugged and simple, ideal for operating in a hostile environment and where routine maintenance tasks would often need to be performed in the field. Of these new orders, the National Coal Board placed the majority. In industrial use many Austerity Saddle Tanks continued working long after steam had ended on British Rail and such is the simplicity of the design and the ease of operation, seventy examples have been preserved and can now be found at heritage railways throughout the UK.

---