OO Gauge Bachmann 32-255BSF DCC Sound WD Austerity 77196 WD Khaki Green Loco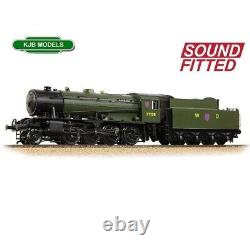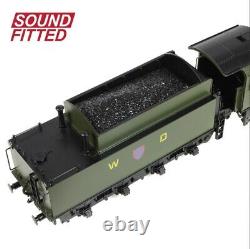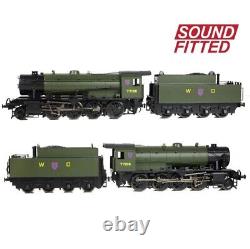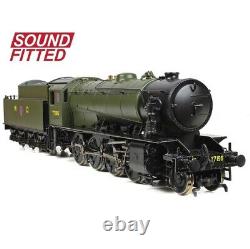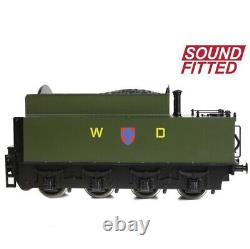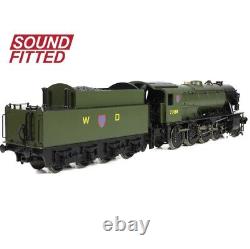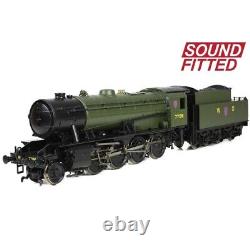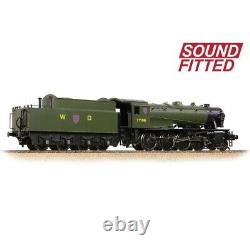 Bachmann 32-255BSF DCC Sound WD Austerity 77196 WD Khaki Green Loco. Brand new model from our new Yorkshire Model Railway shop. Analogue Users: Normal-load running sounds, acceleration steam chuff sounds and any other automatic and randomised sounds can be enjoyed when using this model on analogue control (DC) straight from the box - these sounds will play automatically when power is applied! Featuring a wealth of detail, the uncomplicated appearance of the real locomotives is captured in miniature from the long, parallel boiler and smokebox arrangement to the large, angular tender. With a powerful drive train the WD Austerity is ready to handle the goods, and what's more, with SOUND FITTED this model allows you to enjoy the added dimension of realistic sound effects when operated on analogue control or DCC straight out of the box!
Pristine WD Khaki Green livery. Removable Coal Load with coal space modelled below.
SOUND FITTED - Fitted with a ESU Loksound V5DDC Sound Decoder - See below for the function list. F1 - Sound On / Sound Off. F3 - Cylinder Drain Cocks. F5 - Normal Load / Heavy Load.
F6 - On - Firebox Door Opening / Off - Firebox Door Closing. F8 - Fixed Length Whistle. F9 - Flange Squeal (Speed Related). F10 - Shovelling Coal (F6 must be On to activate this function). F12 - Hand Brake (locomotive will not move with the Hand Brake applied). F13 - Water Tank Filling. F16 - Guard's Whistle & Driver's Response Toot. F18 - Sound Fades Out / Sound Fades In.
F19 - Shunt Mode (Reduces Speed). F20 - Acceleration/Deceleration inertia off. F21 - Volume Control (LATCH = Volume On/Off) or (TRIGGER = cycles 6 Volume Levels). F22 - Rail Join Clatter. Riddles, who had been appointed Director of Transport Equipment at the Ministry of Supply with the outbreak of World War Two, the WD Austerity met a clear demand for locomotives to aid the war effort in Europe.
Riddles based his new locomotive on the Stanier 8F, which he had adopted as the staple military goods locomotive during his time with the Ministry of Supply, and construction began in January 1943. The WD Austerity had many parts in common with the 8F but was given a simpler parallel boiler with a round-topped firebox.
Low cost was prioritised over design life and cast metal parts were kept to a minimum as that material was in short supply for armoured fighting vehicles. There were a few problems with the design, most notably with regard to the firebox and its drop-grate mechanism, and many of the WD Austerities were adapted and fitted with improved parts following the war. A total of 935 were built, making this one of the most numerous classes of British locomotive, but until the D-Day landings, the British Army had little use for the Austerities and as a result many were loaned out to the'Big Four' railway companies. Following the end of World War Two, the army proceeded to repatriate the Austerities, beginning in November 1945.
These were reclassified as Class 07 in January of the following year. Two locomotives continued to be held in WD stock, seeing service on the Longmoor Military Railway in Hampshire.
One WD 2-8-0 has survived in preservation at the Keighley & Worth Valley Railway.

---