OO Gauge Hornby R30192 Class 40 D210'Empress of Britain' BR Green Loco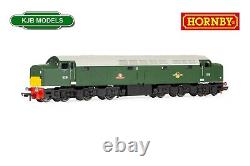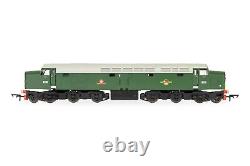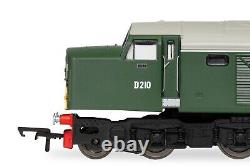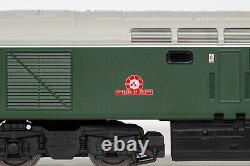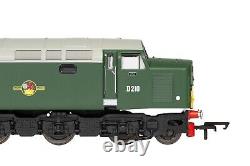 R30192 Class 40 D210'Empress of Britain' BR Green Loco. Brand new item direct from our new Yorkshire model railway shop. Item Scale 1:76 Scale 00 Gauge. DCC Status DCC Ready 8 pin socket (It is NOT DCC fitted). Minimum Curve (mm) Radius 2.
British Railways originally ordered ten Class 40s, then known as "English Electric Type 4s", as evaluation prototypes. They were to be used as replacements for steam locomotives, usually hauling passenger services. This resulted in the inclusion of small gangways at each end of the first 145 units. After this point it was realised that multiple running was rare and could be achieved without the gangways.
The first 125 units were built with a disk route identification. When unfolded the disks were white with a small hole to allow a light to shine through during the night. When the top half of the disk was folded down the back was painted so as to blend into the locomotive and make it clear the disk was not in use. A few locomotives forwent the disks and simply relied on lights or the more traditional lamps, lamp irons having remained a feature. The disk system was soon abandoned in favour of the more modern headcode system, initially requiring split headcodes to accommodate the gangway doors.
Once the gangway doors were abandoned the split headcode boxes were combined in a central position where the gangway doors had previously been. Withdrawals began in 1976 with the majority of locomotives being withdrawn in the early 1980s.
Locomotive D232 was built in 1959 and entered service in September that year. The locomotive was named'Empress of Canada' in March 1961, named after the vessel operated by Canadian Pacific Steamships. Under the TOPS numbering system, the locomotive became 40032 in late 1973. The locomotive was withdrawn in February 1982 and scrapped at Swindon Locomotive Works.

---